Multilingual Directory
Directories Pro is compatible with the WPML plugin. With WPML, you can have any directory content as well as custom text strings added by yourself such as form field labels displayed in multiple languages.
Installing the WPML plugin
For detailed instructions on installing the WPML plugin, visit the following page: https://wpml.org/faq/install-wpml/
Other than the core WPML plugin (WPML Multilingual CMS), we also recommend installing the WPML String Translation plugin for translating custom text strings.
Setting up a multilingual directory
The first thing you must do to setup a multilingual directory is to create frontend pages for each language you have enabled in WPML.
Login to your website if not yet logged in and go to the WordPress administration dashboard.

Click Pages -> All Pages from the side menu.

For all the pages currently set up with Directories Pro (see Directories -> Settings -> Pages), create a copy for the language you wish to enable by clicking the plus sign displayed under country flags.

Important: You can not use the same slug for multiple languages. For example, if the directory main page for English is directory, you can not use that slug for any of the directory pages in other languages. Unfortunately that will not work in Directories Pro.

After creating a copy for all pages, click Directories in the admin sidebar, and go to Settings -> Pages.

Using the language switcher at the top of the page, select the language for which you have created pages in step 3.

Under the Page Settings section, assign pages by selecting pages created in step 3 and press Save Changes.

Repeat steps 3-6 for all other languages you wish to enable.
In addition, follow the steps below to enable translation of listings, categories, tags, and locations:
Select WPML -> Translation Options from the side menu.

Scroll down to Custom posts and select Translate for Directory - Listings and press Save. Note that you do not need to select Directory -Reviews or Directory - Claims.

Scroll down to Custom taxonomies and select Translate for Directory - Categories, Directory - Tags, and Directory - Locations and press Save.
Now you are ready to start creating multilingual content for your directory! See the following page for details on adding translations for your content items with WPML: https://wpml.org/documentation/translating-your-contents/creating-translations-manually/
Translating custom text strings
Custom text strings such as field labels that you configured in the backend can not be translated with .po/.mo language files since those text strings do not exist as predefined phrases. However, with the WPML String Translation plugin, you can not only translate predefined phrases in language files but also custom text strings from the string translation page of the plugin. To view the string translation page, select WPML -> String Translation in the side menu.
When you click the domain dropdown list you may already see several domains with names starting with drts-strings-. These domains are the ones to which your custom text strings are or will be registered. If you do not see the domains or any strings registered, don't worry since they will get registered once you actually view or edit the strings on backend or frontend pages of your directory.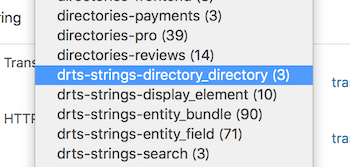 Here is the list of domains for custom text strings in Directories Pro:
drts-strings-directory_directory - Contains text strings used for directory labels.

drts-strings-display_element - Contains text strings used for displays and filters.

drts-strings-entity_bundle - Contains content type labels such as Listings, All Categories, and %s listings.

drts-strings-entity_field - Contains text strings used for form field labels, descriptions, and options.

drts-strings-search - Contains text strings used for search form labels and placeholders.
Simply select a domain from the dropdown list and start translating the strings registered in the domain to make them multilingual.